Today I am going to show you guys the progress I have made on our Zombie dog! My husband is a K9 handler and for Halloween were wanted to make a zombie dog. He isnt 100% finished yet, Ill snap some pictures the day he is used so you guys can see the finished look. But he was super cheap and easy to make so I hope you guys are ready to see an amazing transformation!


We took the body of a yard horse (used for Christmas, a reindeer will also work), and removed the lights, and moved some of the pieces around to look more like a dog. Then we stuffed him with newspaper, and secured it in with duct tape.


Making some progress...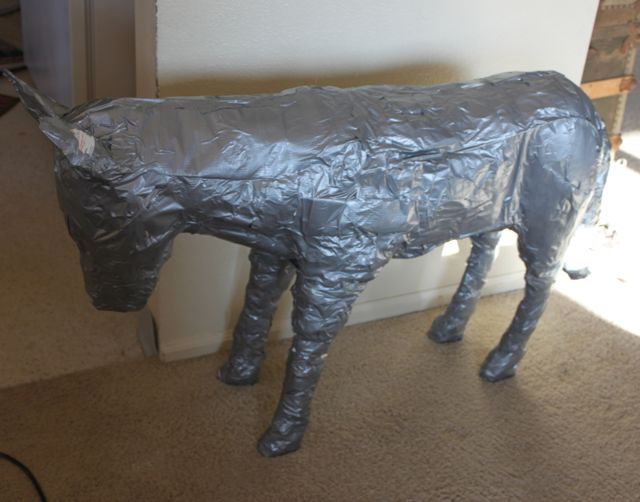 I used some cardboard to make pointy ears (We were going for a German Shepard). Now this was a complete trial and error kind of project. He looks very much like a donkey right here. I was getting a little nervous...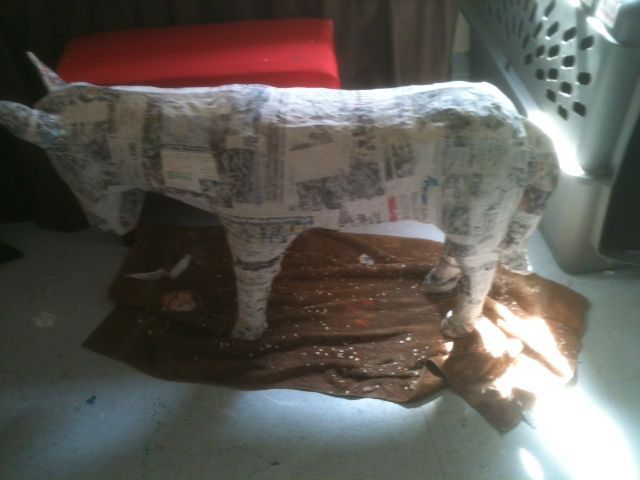 Some of these pictures are off our phones so Im sorry for the bad quality! Next step was to paper mache the whole body and let him dry over night.
Then came the FUN part! I started making the nasty looking cuts and open wounds. The ribs are made from hangers covered in little cardboard tubes, and then covered in saran wrap. The blood was a recipe my husband cooked up (literally), i have no idea whats in it! And around the wounds and the ribs I did a oatmeal and gelation mixture. After it dries it feels like rubber, very cool!


For the first layer of oatmeal and gelation, I added a cream color to look like flesh, and the second time I added some fake blood.
I added some red and some wood stain to give it some color.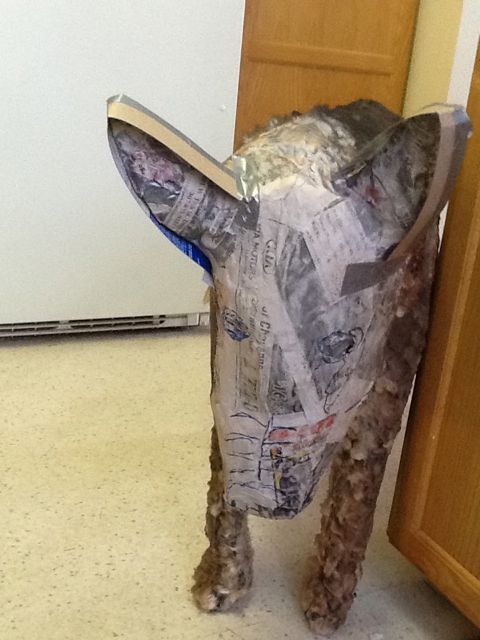 Now its time to work on the face!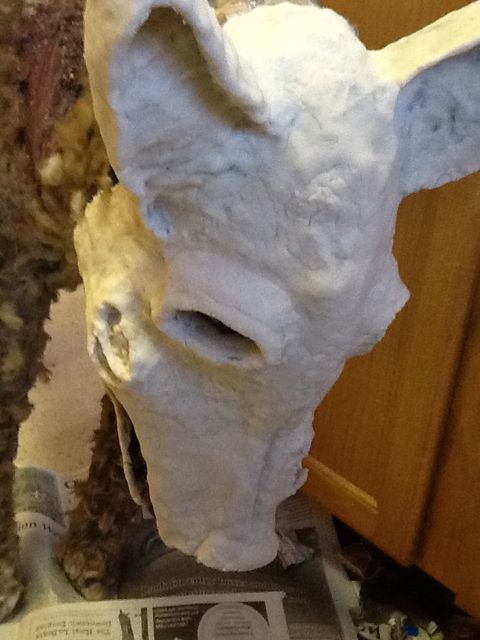 I decided to cover the face in a clay mixture (2 cups flour, 1 cup salt and water). I made a few wounds on the face in the clay as well.
In this picture and the one above it you can kinda see the rest of the body how its covered in "fur." I didn't get any picture of this step, but we couldn't figure out how to give the dog hair (without spending a ton of money), so we tried a few things. We went with cotton balls, yes I said cotton balls! I covered a small area with some hot glue and pressed a cotton ball into then pulled straight up and it worked out really well.
Next we just spray painted the dog brown, black and white.


I made some eyes and teeth out of the same clay mixture, and let them dry over night. Then I hot glued them in and added some red paint for blood.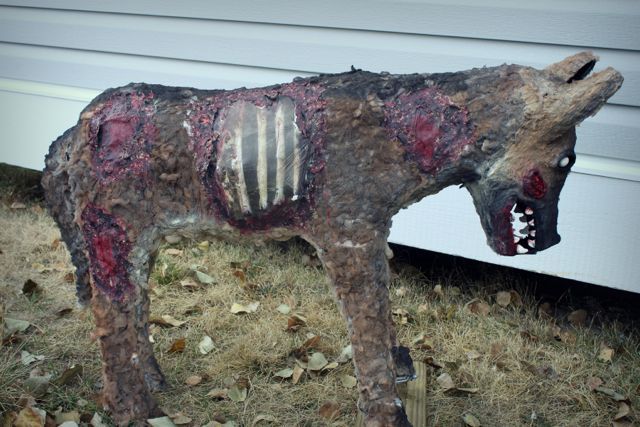 And here he is! I am really happy with the way he turned out. The night of our Trunks for Treats, and Halloween his wounds will be covered in fake blood. Ill be sure to snap some picture and update.
His face is my favorite. I wasn't sure if i should paint his eyes, but the white really makes him pop!
Hope you guys enjoyed, he took us about 3 weeks to finish and I cant wait to show him off.
Happy Halloween decorating!!